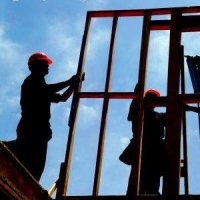 How to Select a Building Contractor
Depending on what your needs are as well as the extent and different types of works involved, you might want to hire a general contractor, who in turn would subcontract the work out to other companies specialising in different services. Alternatively, if only one type of work is required, for e.g. electrical work or the installation of a geyser, then you could approach an electrical contractor or a plumber. Of course, if you are planning to build your dream house or are wishing to undertake major alterations or extensions, then it would be advisable to engage the services of an architect, who then as a principal agent can contract the services for you - including the services of a quantity surveyor and subsequently, the general contractor. Ultimately, your choice is likely to be influenced by the scale of the intended project.
Though, even for some smaller renovations and improvement work, you might wish to avoid time consuming do-it-yourself jobs and instead rely on the services of an expert. Your decision on whether to involve a contractor, essentialy depends on your time available, budget and your skill.
However, it is important to take note that at the moment, there is no legal requirement in Namibia for contractors to be licensed. This may well change with the establishment of the anticipated National Planning and Construction Council. That leads to the question about how you would select a building contractor. There are various safeguards you can put in place to avoid being dissapointed and at worse, making huge financial losses.
Members of the CIF are required to adhere to a Code of Conduct (as you will find on this website). Though, you would be advised to consider critical steps when engaging the services of a building contractor. Ultimately, you are having to put your hard earned cash on the table! Therefore, it really is important that you make a good choice and select the right building contractor. You need to know whether the contractor you choose is totally trustworthy, financialy stable and has the relevant experience to do the job. So, how would you go about establishing whether the contractor is indeed what he promises to be.
REFERENCES
Before you make any comitments and hire a contractor, it is important that you would find out a lot more about the contractor. As with the procurement of any other service, it is advisable to obtain references. You should not hesitate to ask for references and indeed call them to see if they were satisfied with the building services provided by the contractor. If the building work took place locally, it is advisable to look at various completed projects - as well as building sites, where work is still in progress.
However, to protect yourself as buyer of building services, the Construction Industries Federation of Namibia (CIF) encourages that only CIF-registered companies are contracted. Although, the CIF does not have any enforcement capacity, its members are guided by a strict Code of Conduct.
If you contract a company that is not a member of the CIF, the Federation will not be able to assist you with a complaint and advise you accordingly. If you are unable to resolve a matter with the contractor, your only remedy for unsatisfactory work then would be to instigate legal proceedings. This clearly is a very good reason to work only with contractors registered with the CIF.
Therefore, we suggest that you ask to see the CIF-registration certificate. You can also call us on Tel: +264 (0) 61 417300 - to establish whether the registration certificate is valid.
FINANCIAL STABILITY
It is also critical to establish if the contractor is financially stable. One of the ways to gauge the contractors financial stability is to establish for how long the company is operating already. It can also be useful to obtain references from suppliers of building materials, subcontractors as well as the contractors bank. A letter from the supplier of building products might also protect you against a supplier's rights on your property (in the event the contractor does not pay the supplier for products supplied, even though you might already have paid the contractor for his services). You need to know if the contractor you are about to hire is financially responsible. You can also request a reference letter from respective subcontractors about whether the contractor pays on time; again this would minimise the risk of any subcontractors having any rights on your property.
INSURANCES
Accidents can happen. Unless the contractor is sufficiently protected it can directly impact you and indeed affect your livelyhood. The contractor must be insured against claims covering workers' compensation, property damage, and personal liability in case of accidents. Ask to see a copy of the certificate of insurance, or ask for the name of the contractors insurance carrier and agency. No incident should put the completion of your project in jeopardy. Therefore it is critical that the contractor can continue with the provision of services by being adequately insured as well as by insuring that respective subcontractors are covered against various losses.
PROCEDURES AND PROCESSES
To avoid that the building project becomes to difficult to manage, it is important to understand the normal procedures and processes the contractor has in place. You need to have a signed document which can be either a contract or a signed and accepted proposal that will outline the work that will be done for you, what the costs would be (material and work) as well as how long the project will take. You would want in writing by when you can expect the project to start and to finish.
At the outset, you would need to have defined the payment terms, which should be part of your contract. It needs to be contractually determined how much you pay up front, before the contractor commences with the project. A so called "mobilisation fee" should not exceed 10 % of the overall costs of the project. Other matters that you need to be clear about are who is responsible for cleaning up and also for the protection of the surrounding area. You would also need to know who your main point of contact is and how regular you would meet. It is important also to be aware of changes that are proposed which were not included in the approved proposal. A change order can lead to additional costs and you need to establish why the changes are required and why work was not included in the original proposal.